Nowhere is the Damage to the Earth's Ozone Layer More Dangerous -- Residents Have Sunburns and Cancer to Prove it.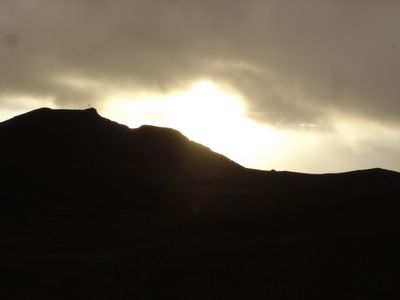 By David Abel | Globe Staff | 4/02/2002
USHUAIA, Argentina - Frigid gusts make the trees grow sideways, penguins and sea lions slide from frosty beaches into icy waters, and flurries fall gently on the snow-capped glaciers ringing this small city at the bottom of the world.

It may feel like winter year-round, even recently in late summer, but the blustery assault of Antarctic winds at the southern tip of South America can be a cruel illusion.
Despite freezing temperatures and an occasional blizzard, the sun on a clear spring day in Ushuaia can burn more quickly and dangerously than the rays on a beach in Miami. In fact, on a cloudless day from late August to December, especially after a recent snowfall, there may be no more dangerous place on the planet to spend time outdoors.
"The sun is strong - but it's not warm," said Nicolas Gamarra, 42, who, after spending half his life in Ushuaia driving a taxi, ignored his company's advice last year to install a special film on the windshield of his cab. "Without heat, we don't worry."
Many people in the city, including Gamarra, wonder whether they should be more concerned. Every spring over the past two decades, an expanding hole more than two times the size of Europe opens in the ozone layer and exposes this pristine city's nearly 50,000 mainly fair-skinned residents to the most unfiltered ultraviolet light anywhere but the unpopulated tundra of Antarctica.
The result of damaging man-made chemicals released over decades into the atmosphere,
the ozone depletion over the Tierra del Fuego islands has worsened ever since scientists discovered the hole in the late 1970s. While the rate of thinning has begun to slow, ozone levels in the region have declined - sometimes to less than half normal levels - despite an international treaty signed in 1987 that banned ozone-destroying chemicals.
The ozone won't return to normal levels until at least the middle of this century and scientists see Tierra del Fuego as ground zero in the debate over the biological consequences of the hole. Already, scientists have observed that increased radiation in the region has damaged everything from the DNA of certain plants near Ushuaia to the growth of icefish eggs near Antarctica.
And now, for the first time, studies show a direct link between days when the ozone hole extended over the region and skin ailments sustained by people in Tierra del Fuego and in Punta Arenas, a city of about 150,000 just north of Ushuaia in Chile.
In February, Jaime Abarca, a dermatologist in Punta Arenas, and two Chilean climatologists published a study in the Framingham-based Journal of the American Academy of Dermatology that documented the first cases of blistering sunburns on days with significant depletions of ozone. Another Chilean dermatologist also recently published a study showing over seven years a 28 percent increase in cheilitis, the cracking of skin around the lips.
In the latest study, which won't be published for another six months, Abarca and a colleague document a 66 percent increase of skin cancer in Punta Arenas from 1987 to 2000. An earlier study by Argentine dermatologists found that cases of skin cancer in Ushuaia rose more than 50 percent between 1985 and 1995.
"This may be a very serious problem," Abarca said from his office in Punta Arenas. "Most of the people here don't even understand that they have to take care. Their skin is not adapted to sudden surges of ultraviolet light - and the ozone is not likely to improve for at least another 50 years."
Although pharmacies in the region market sunscreen in their display windows, setting them on pedestals like some shops feature perfume, few in this century-old former penal colony are worried about the ozone hole.
Scientists show graphs that make living in San Diego seem more dangerous. Dermatologists discount the skin cancer increases, attributing the rise to a growing and aging population. And the tourist office in the center of town doesn't offer information about the ozone hole because officials don't believe it's a serious problem - and they don't want to alarm the public.
For many others in Ushuaia,
the ozone hole is something they've heard of but know little about. In their last year in high school, Piatoni Flavio and Vanessa Delgado, both 17, shake their heads when asked what they've been taught about the ozone hole.
"Nothing," Flavio said.
Turning her back on the bright midday sun, Delgado said: "There's no information here."
Julio Rodriguez, a policeman who spends countless hours outside patrolling the streets, isn't worried, either. With Argentina's economy in tatters, its president unelected and the fifth to take office in the past three months, and unemployment, inflation, and crime rising throughout the country, there are other things to fret about.
"This country has so many problems right now, the least of my concerns is the environment," he said.
Those who have spent years studying the thinning ozone, like Susana B. Diaz, a scientist leading a team measuring radiation in Ushuaia, explain their lack of concern by drawing a picture of the Earth. In it, the city benefits from being at the bottom of the planet. Despite less ozone, Diaz and others say, sun rays pass through the atmosphere at a slanted angle, traveling through more ozone than those that enter more directly near the equator.
The soft-spoken scientist said she rarely, if ever, wears sunscreen and believes Abarca and officials in Punta Arenas, which broadcasts ozone alerts in local media using a red, yellow, and green-light warning system, are going overboard.
"What they are doing is making an alarm - overreacting," she said while pointing to graphs showing radiation levels lower than in San Diego. "They're giving people the idea that they can't go outside during the ozone hole. That's wrong."
One dermatologist, however, believes prudence is wiser than skepticism and counsels her patients to let their children play outside - but if it's spring, only with sunscreen.
Maria Monica Pages de Carlot is one of only four dermatologists in Ushuaia. She has made presentations at schools and pressed local authorities to air radio and TV advisories about the potential harm from the sun. After more than a decade working in Tierra del Fuego, seeing about 400 patients a month, she has treated a range of skin ailments. But it wasn't until two years ago that she really sensed the potential danger of living beneath the ozone hole.
On Oct. 12, 2000, hundreds of people lined the streets of Ushuaia for hours to attend the annual parade celebrating the city's founding. It so happened, and without any warning to the public, the ozone that day dropped to one of the most dangerous levels since scientists began monitoring the hole. After the parade, Carlot and the other dermatologists received an uncommonly large number of patients seeking treatment for severe sunburns.
"This was a surprise for us, but thankfully it hasn't been common," Carlot said. "We're really not sure what the long-term effects will be if the ozone hole doesn't improve. We need further studies."
For Abarca, all the information he and other scientists have compiled proves the hole's danger. With predictions still sketchy about when the ozone hole will ultimately close, he believes officials in Ushuaia are wrong to act otherwise.
He acknowledged that sun rays pass through more atmosphere in Ushuaia than in cities such as Buenos Aires or Boston, where ozone levels are far more normal. But he said the depleted ozone allows more of the short wavelengths of ultraviolet light - the most carcinogenic sun rays in the spectrum - to reach the ground than in any other populated area in the world.
"Is this not reason enough to be worried?" he asked.
And when the Argentines say residents are protected because
they almost always cover themselves head-to-toe to shield the cold, Abarca said he believes that's another reason the ozone hole is so dangerous. In spring, when temperatures warm and ozone declines, the fair-skinned people frequently shed their heavy parkas. With little exposure to the sun, they're more likely to sustain sunburns, especially if the sunlight is magnified by snow.
What's needed now, he and others argue, is increased education about the ozone depletion and a system that alerts residents throughout the bottom of South America when to expect a serious drop in ozone.
"No one wants to make the tourists go away," Abarca said. "But we are telling the truth, not overreacting. This is a problem that cannot be ignored."
David Abel can be reached at dabel@globe.com.
Copyright, The Boston Globe